5 Thai Dishes You Need to Try in 2021
---
As summer begins to wind down, the deliciousness of Thai food feeds the soul every season. 
There are many different types of Thai food, whether it's salad, soup, noodles, stir fry, rice, or even desserts – there is a dish for every taste palate.  
The best part about homemade Thai food is that you can mix it up however you please in terms of spicy, salty, sweet, or sour. You also can choose whatever proteins, vegetables, grains, and sauces suit your taste best – all combinations work! 
Thai Food is undoubtedly one of the most popular cuisines worldwide, which is why I always love to encourage my foodies to try new combinations of their favorite Thai-style dishes at any of our locations. 
So, what are some Thai food must-haves?
1) Crispy Vegetable Egg Rolls
If you've never had Thai food before, the Crispy Vegetable Eggrolls are a great place to start. Eggrolls are an integral part of Chinese cooking, but their influence has made them a staple in every southeast Asian country.  
This is partly because you can add any filling into eggrolls! Think chocolate and banana dessert rolls, pad Thai noodle eggrolls, steak and cheese eggrolls, taco eggrolls – the possibilities are endless, and it's a perfect shareable dish with your family or guests. Anything that's deep-fried and dipped in a sweet and sour sauce feeds the soul! 
2) Spicy Tom Yum Soup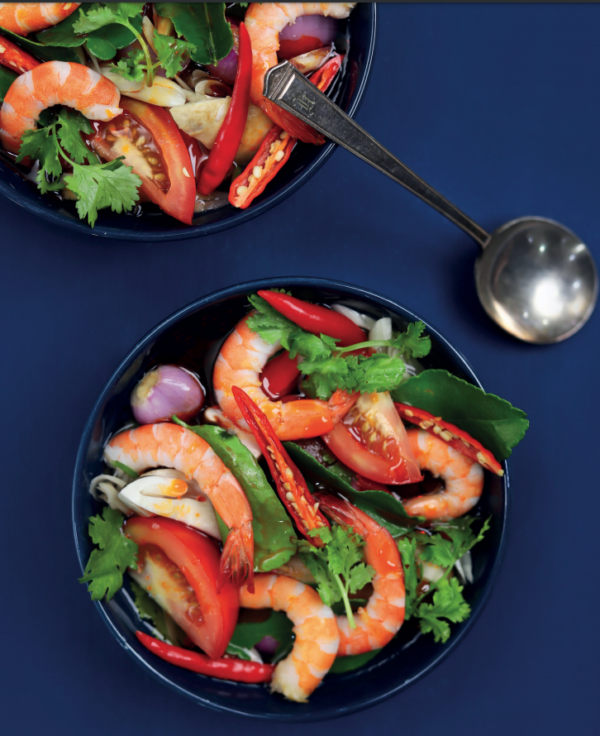 Tom Yum Soup is the dish that put Thai food on the American culinary map. It is commonly made with shrimp and has amazing herbs that will clear your sinuses in seconds. 
When I lived in Thailand, I ordered Tom Yum Soup at every restaurant. It is so soul-nourishing! The lime-forward flavors cut the spice from the Thai chilies and balance the salt from the fish sauce. And it comes with large, head-on freshwater prawns. 
Tom Yum Soup is the gateway Thai dish for vegetarians. Our Mintfinatics and even first-timers love this soup because of its amazing herbs native to Thailand. I love to teach this recipe in my cooking classes! 
Once you have tasted the power of these herbs, you will want to start adding them to all your orders at Asian Mint! In Thailand, Tom Yum uses straw mushrooms that are extremely hard to come by in the U.S. The best part? We have them at all our stores, and they can be added to any dish you crave!  
In our cooking classes, students' eyes light up when they first see, smell and taste the fresh ingredients such as lemongrass stock, kaffir lime leaves, fresh galangal (Thai ginger) and fish sauce. I make a bowl of this soup with noodles every week to taste the delicious herbs that take me back to my time in Thailand with my family.  
3) Pineapple Cashew Fried Rice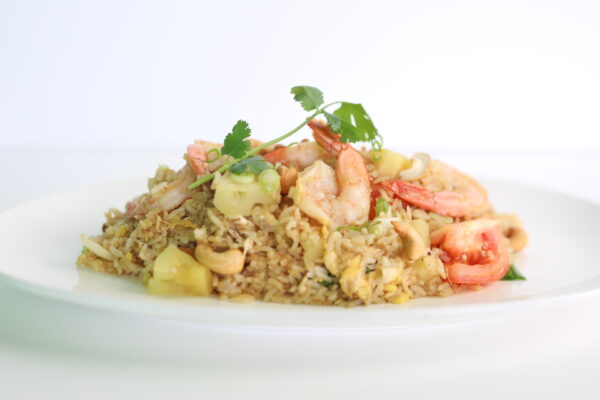 I know it might seem weird to have pineapple and cashews in Thai fried rice but trust me when I say it is the key to sweet and spicy goodness. This dish is a great Thai dish for those sensitive to heat or prefer recipes with little to no spice.  
Pineapple and cashews are grown widely in the southern part of Thailand and thus are used in a lot of dishes from the south. This region grows the sweetest pineapples and the best cashews. The pineapple is a natural sweetener, and the cashew brings a crunch and extra protein.  
I challenge everyone to start ordering their favorite Thai dish with natural sweeteners that will make your meal pop with another layer of fresh flavor. 
4) Red Ruby (Tub Tim Krob)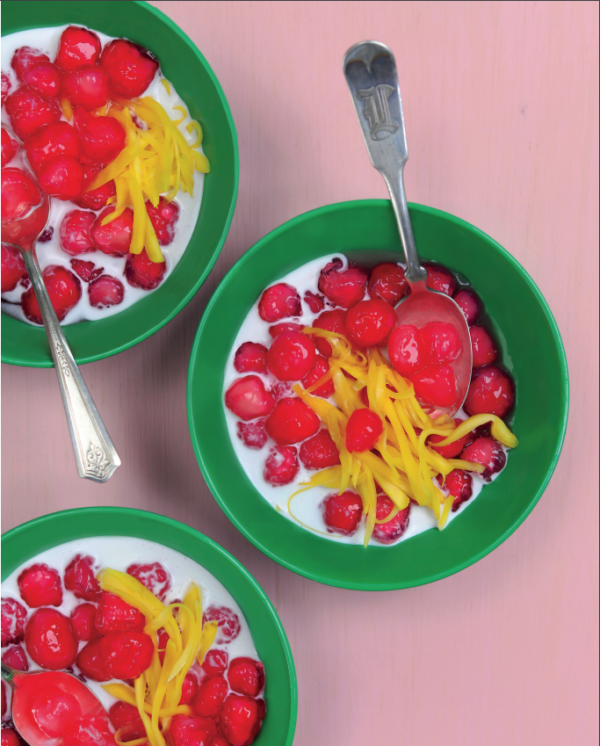 Tub Tim Krob is an immensely popular Thai dessert, especially in the warmer seasons. It looks like red rubies floating in a glass of chilled milk. The name comes from the name of red pomegranate seeds, the "rubies." My version of Tub Tim Krob is made from water chestnut-colored pink by soaking them in traditional Thai red strawberry-flavored syrup.  
We use flavoring syrups like those used for Italian sodas or cocktails. With strips of jackfruit, it is perfect on a tropical afternoon, a must-try before winter approaches. Serve with coconut milk, syrup and crushed ice on top. The family — especially the kids — love it, and it is the perfect dessert to enjoy in the Dallas heat!  
5) Druken Noodles (Pad Kee Maw)
 
Everyone loves a good bowl of Thai noodles. Thai basil, purple-stemmed, heartier basil than the usual Italian, is the backbone of this dish.  
It also has amazing properties that keep you – and us – coming back for more. The herb is considered by some to be an antidepressant and relieve anxiety. I love watching body language when someone eats our basil-infused dishes. 
They start to relax. Their shoulders are less tense. They start to smile and converse in different tones.  
The effects of basil happen so fast, I think it must be magical. We are always finding ways to add it to our menu options and specialty dishes!  
So, let us eat! Make sure to visit us at one of our locations or order online for curbside pickup, takeout and delivery to experience this soul-feeding magic at home! Also, be sure to grab a few of my delicious sauces or order your own set of Nikky's Sauces online now to mix it up on all your favorite Asian Mint dishes you have come to know and love!  
Feed Your Soul! 
Chef Nikky Phinyawatana