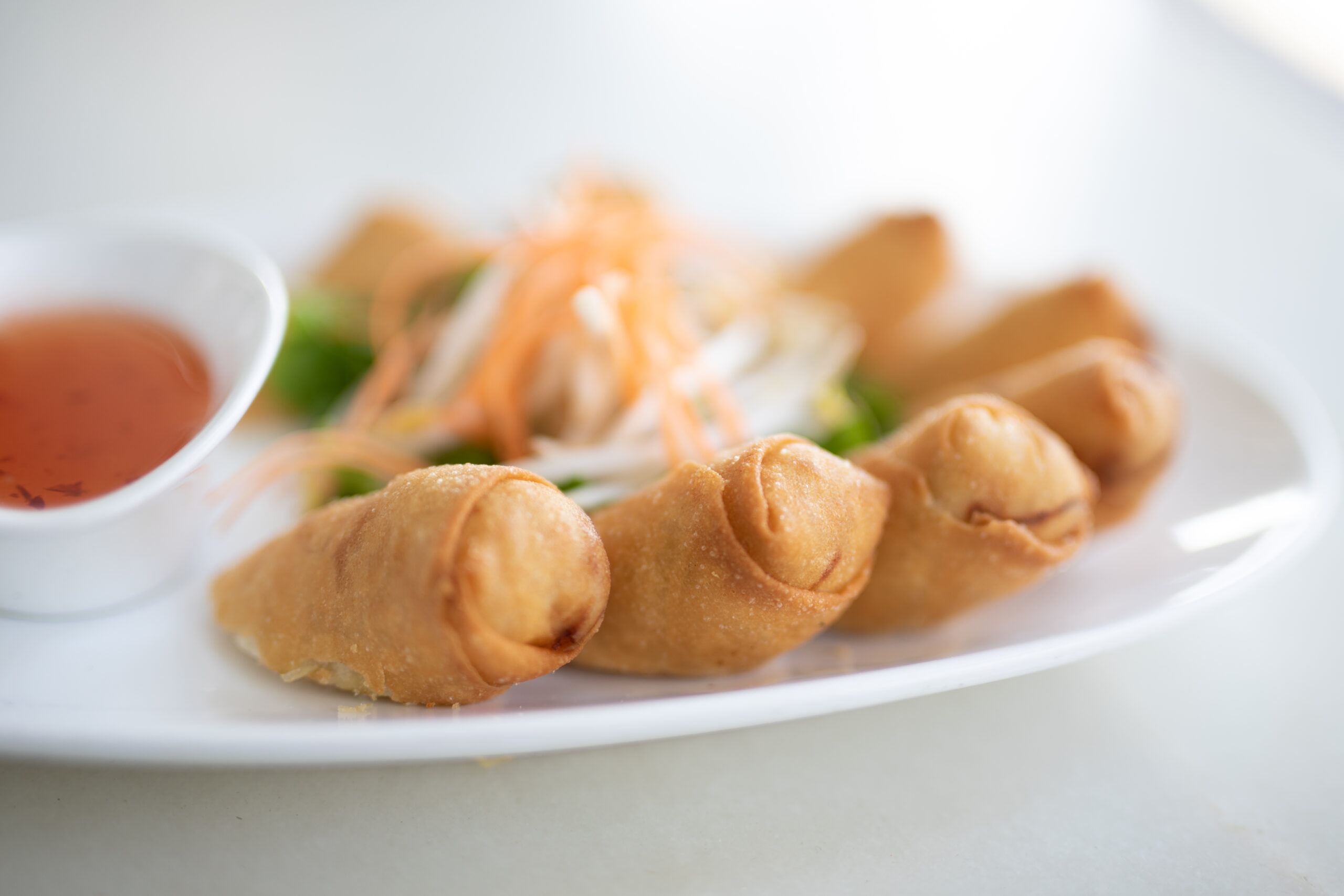 Best Egg Rolls in Dallas
It's safe to say egg rolls are – and always have been – an Asian cuisine staple.
Opening a box of Thailand's crispy, crunchy and savory appetizers is one of the best parts of any Thai takeout order.  
Egg rolls are commonly made with a mixture of chopped proteins and diced vegetables in a flaky deep-fried shell. Whether it's for breakfast, lunch or dinner egg rolls are the perfect snack anytime of the day!  
Traditional Chinese egg rolls got their name from the flour wrap that is dipped into egg yolk prior to deep-frying. This results in a finished roll that has a thicker shell, a deeper golden-brown color and a more textured surface. Egg rolls are more substantial than other rolls, with common ingredients such as pork, chicken, shrimp, shredded cabbage, carrots, and bean sprouts. 
Thai egg rolls however aren't dipped in egg yolk. Instead, they are wrapped in a thin egg roll wrapper that is more traditional to Thailand's style of cooking. This results in a crispier, lighter texture with various vegetables stuffed inside.   
The best part about Thailand's rolls, is that they can be crafted for anyone's health preferences. According to a recent study, people are becoming more interested in meals that support and nourish their bodies and minds – and Thai food does just that.  
Thai food has become increasingly popular across Dallas-Fort Worth, with new locally owned Thai restaurants opening or expanding throughout the metroplex daily.  
So, where are the best egg rolls in Dallas? 
ASIAN MINT! Enjoy life, great food and the best egg rolls in town at one of Dallas' most beloved Thai restaurants! Since 2005, Asian Mint has been known for serving guests a modern, Asian-infused cuisine that Dallas foodies keep coming back for. Their sprawling variety of egg rolls to suit a number of dietary restrictions and cravings.  
Here are a few fan favorites for any taste palate:  
Fried Vegetable Rolls
Fried Vegetable Egg Rolls are a fan favorite menu item at Asian Mint, serving up eight tasty bites of savory, fresh and crispy golden-brown goodness. Each roll includes cabbage, carrots, onions and Chef Nikky's vegan and gluten free Sweet and Sour Sauce that will explode your taste buds with flavor.  
These rolls are delicious a la carte or paired with a bowl of fried vegetable or chicken rice as well as Asian Mint's Original Pad Thai.  
Fresh Summer Rolls 
If you don't like fried dishes, another popular Thai appetizer is Asian Mint's Summer Rolls. Serving six fresh bites of rice paper filled with vermicelli rice noodles, hand-shredded green leaf lettuce, carrots, mint and chicken with a side of Asian Mint's famous house-made peanut sauce. 
When creating the menu, Asian Mint decided to create summer rolls instead of spring rolls. Spring rolls can be served fried or not fried. Since Asian Mint already had fried vegetable egg rolls, the summer roll was the perfect addition to complete the array of rolls served. 
Summer rolls are a fresher take on their egg roll cousins and resemble more of a rolled-up salad — which is why they are also occasionally presented on menus as "salad rolls" or "fresh rolls." Other vegetables commonly included in are cucumbers, cilantro and Thai basil.  
These rolls aren't all veggies though. You can always add protein like shrimp, pork or chicken to add some extra flair. Peanut sauce is typically the go-to pick for dipping sauce, but Asian Mint guests can also order a side of Chef Nikky's Hot Sauce for a spicy kick.
 No matter which roll you like best, each is guaranteed to feed your soul! 
The Mint Platter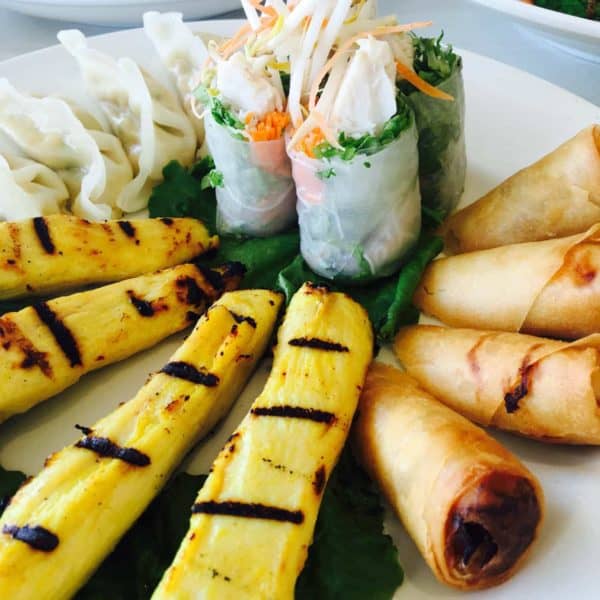 Asian Mint has the ultimate rolls appetizer: the Mint Platter. With grilled chicken satay, fresh chicken summer rolls, fried vegetable rolls and steamed dumplings, The Mint Platter helps Mintfanatics try out a variety of Asian Mint's beloved appetizers that are sure to make your sweet, salty, sour and spicy dreams come true!  
To try out the best egg rolls in Dallas, make sure you visit Asian Mint at one of its four locations to experience a fresh, enriching experience. Guests can also order takeout, curbside pick up or delivery online as well as in-store.  
While you're ordering, be sure to grab a few of Chef Nikky's delicious sauces or a pack of Drama Queen Thai Crispy Chili seasoning flakes today to mix up all the Asian Mint egg and summer roll dishes Dallas foodies have come to know and love.