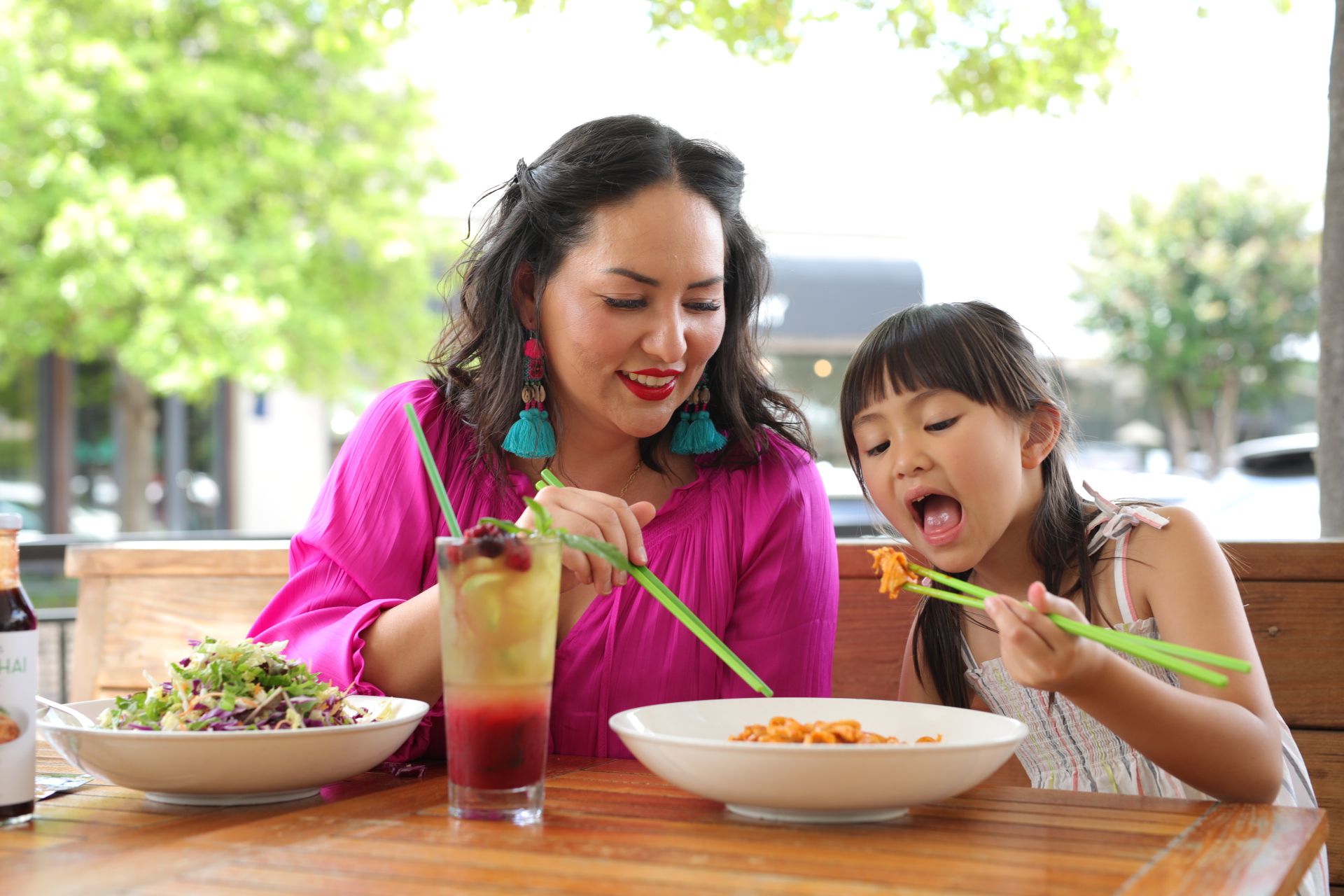 Thai Family Style Dinners
Thai food has the beauty of bringing loved ones together, no matter the occasion. Known for its variety of savory, spicy and sweet flavors, traditional Thai cuisine feeds the soul of every taste palate – yes, even those picky eaters in the family! 
In Thailand, food is meant to be shared.
This is partly because of the friendly, social nature of Thai people but also because of the way in which food is ordered, served and eaten. Food unites people – and who else is better to bond with than your loved ones?   
Traditionally, Thai family style dinners include five different dishes per meal including a vegetable, salad, soup, protein, and curry dish the family knows and loves. No matter the size of your family, Thai food can be served to accommodate them all. 
At Asian Mint, guests can order their own Thai family style meal with a combination of our popular appetizers, entrees and desserts. Whether it's a classic vegetable stir fry, curry, seafood salad, or cashew chicken dish, there's a plate for every family member!  
Here Are Dishes to Order for a Thai Family Style Dinner Experience:
Red Curry 
Any type of curry is an essential in Thai family dinners. Red Curry has spicy and bold flavors that you can put anything into and it's delicious. Most Thai curries use a wet paste from coconuts and include various herbs, proteins, vegetables, and legumes to determine the level of spice you're craving!  
Asian Mint's Red Curry is made up of red curry, coconut milk bamboo shoot, Thai basil, and red bell peppers for a fresh and authentic Thailand spice.  
Pad Woon Sen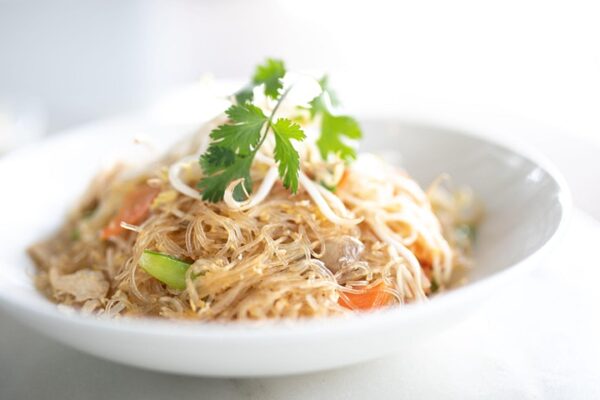 Next is a classic vegetable dish. These dishes during family dinner include a variety of veggies that are raw or steamed on noodles. A popular dish for your Thai family style dinner is Pad Woon Sen. This meal is gluten free and can be adjusted for those who are also vegan or vegetarian. 
Our Pad Woon Sen is made with clear low carb noodles, eggs, broccoli, scallions, white onions, carrots, mushrooms, bean sprouts, and snap peas – veggie galore! You also have the option to add a protein of your choice or tofu to boost your dish.  
Papaya Salad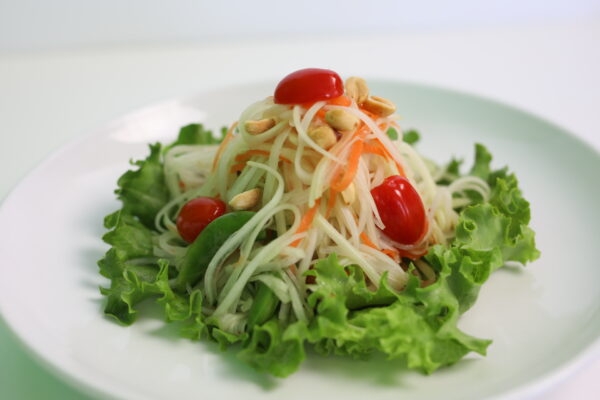 Like every family dinner, there's always a salad component. In Thailand, whether it's a papaya salad, Asian noodle salad or house salad, this is a key dish you would find at the table. In addition, papaya is good for the soul and the body with up to 96 milligrams of vitamin C. It also adds the perfect hint of sweetness in any salad dish.  
Asian Mint's Papaya Salad is made up of green papaya, grape tomatoes, carrots, long green beans, and peanuts topped with our tamarind chili lime dressing for extra Thai flair!  
Chicken Noodle Soup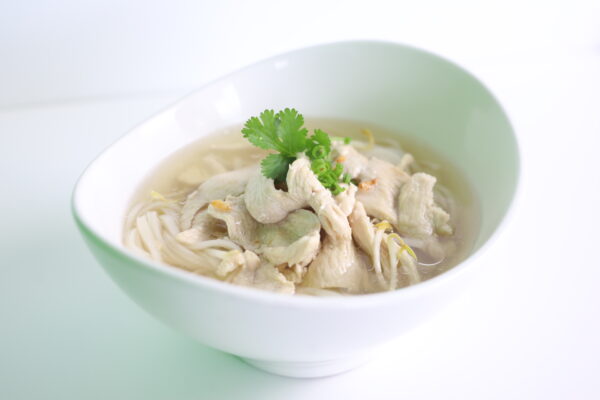 Chicken noodle soup in Thailand is a little different from the classic bowl of warm goodness – it's the most epic flavor yet! This type of chicken noodle is combined with curry paste, rice noodles and various proteins and vegetables.  
At Asian Mint, guests have the option to add chicken noodle to our Spicy Tom Yum Soup, which includes spicy lemongrass sauce, tomatoes, fresh lime, mushrooms, and scallions. If spicy isn't your thing, you can also add chicken noodle to our Thai Coconut Soup which is made up of coconut milk, fresh lime, tomatoes, mushrooms, and scallions. Both dishes are also gluten free.  
Original Pad Thai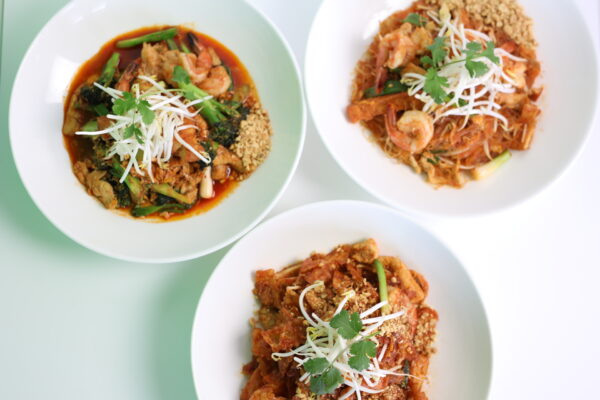 Pad Thai is a family favorite in Thailand and a great throw in dish for any social gathering. Although Pad Thai is not traditionally a part of a family dinners in Thailand, Chef Nikky's family loves this dish so much, they always put it on the table to share as a group. 
Here at Asian Mint, our Original Pad Thai is made with thin rice noodles, shrimp, chicken, tofu, house made tamarind sauce, egg, scallion, bean sprout and peanut. This is a traditional meal that the whole family can enjoy.   
House Fried Rice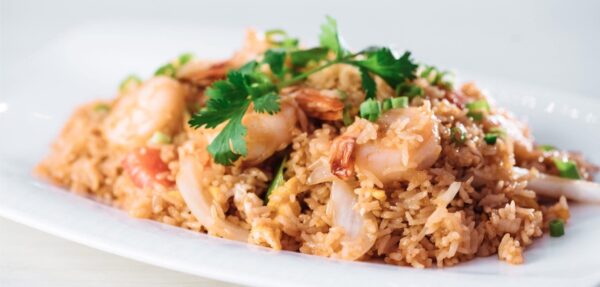 Fried rice is a Thai cuisine staple and an Asian Mint house favorite. Our House Fried Rice is made with fluffy jasmine white rice, egg, scallion, white onion and tomato. To make this meal denser you can add your favorite protein, including chicken, beef, tofu or shrimp. 
Ginger Chicken
Pairing this with our Ginger Chicken also makes a great combination! This dish is made with fresh ginger sauce, chicken, carrot, mushroom, white onion, scallion, cabbage, and snap pea. Altogether this family dinner is a well-balanced mix of salty, sweet, sour, bitter and spicy flavors. 
Try out these pairings or a variety of these dishes at one of Asian Mint's four locations to experience a fresh, family friendly experience everyone will enjoy! Guests can also order takeout, curbside pick up or delivery online as well as in-store.  
We also offer catering, perfect for your next celebration. Order today and be sure to tag @AsianMint to show us how you're enjoying Thai cuisine!  
While you're ordering, be sure to grab a few of Chef Nikky's delicious, easy-to-use Sauces or a pack of Drama Queen Thai Crispy Chili seasoning flakes today to your own favorite flavor to the Asian Mint dishes Dallas families have come to know and love.