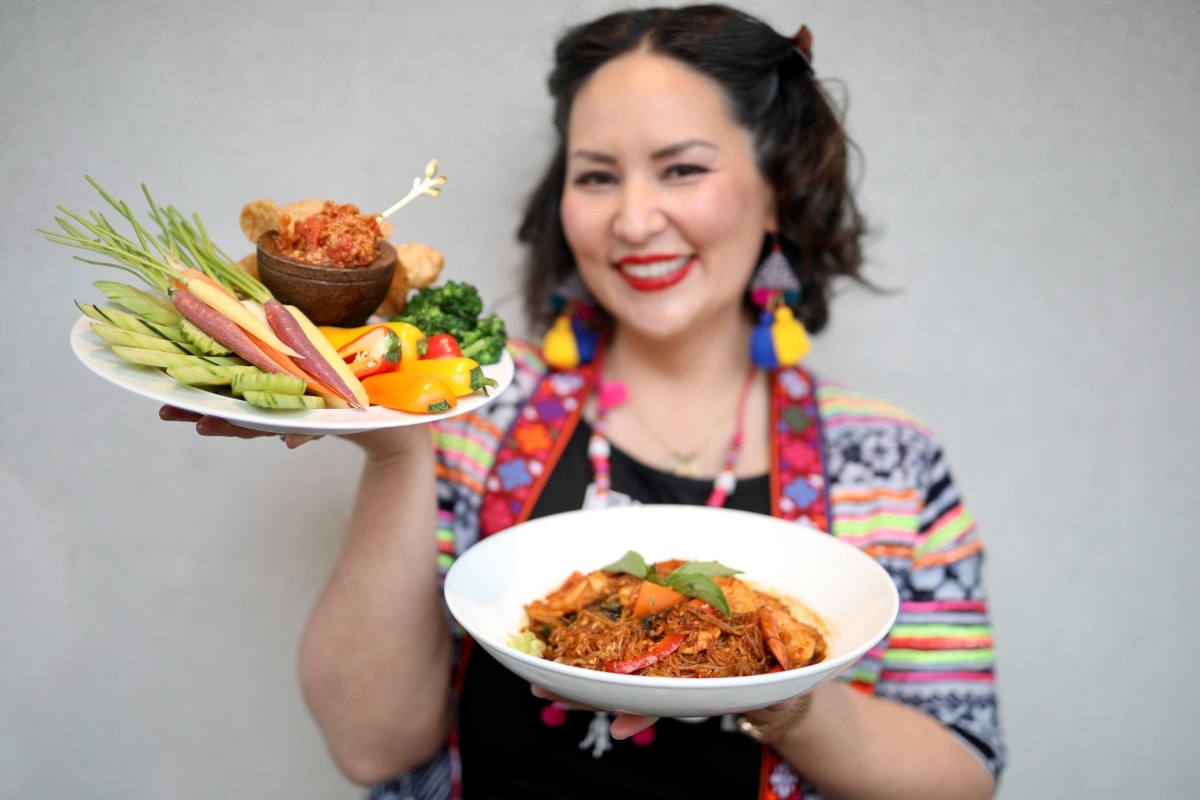 Songkran or Thai New Year: Do You Need to Serve Specific Dishes?
Growing up in Thailand, Chef Nikky loved Songkran. It's one of the liveliest festivities you can attend, and you'll receive some soaking whether you want to or not. She strived to continue celebrating Thai New Year even after she left Thailand.
During Songkran, you'll find Chef Nikky creating her favorite "Thai New Year dishes," ones she marked as essential. You should know that you don't need to serve specific dishes during the Thai New Year. But for Chef Nikky, Pad Kee Mow, Nam Prik Ong, Chicken Lettuce Wrap, Papaya Salad, and Thai Tea serve as her Songkran favorites.
All of them are Thai food you can easily find in the streets during Songkran. They've been Chef Nikky's soul-feeding to-go meals whenever she celebrated Thai New Year for as long as she can remember. They remind her of home and help her keep the tradition going despite her hometown's distance.
Pad Kee Mow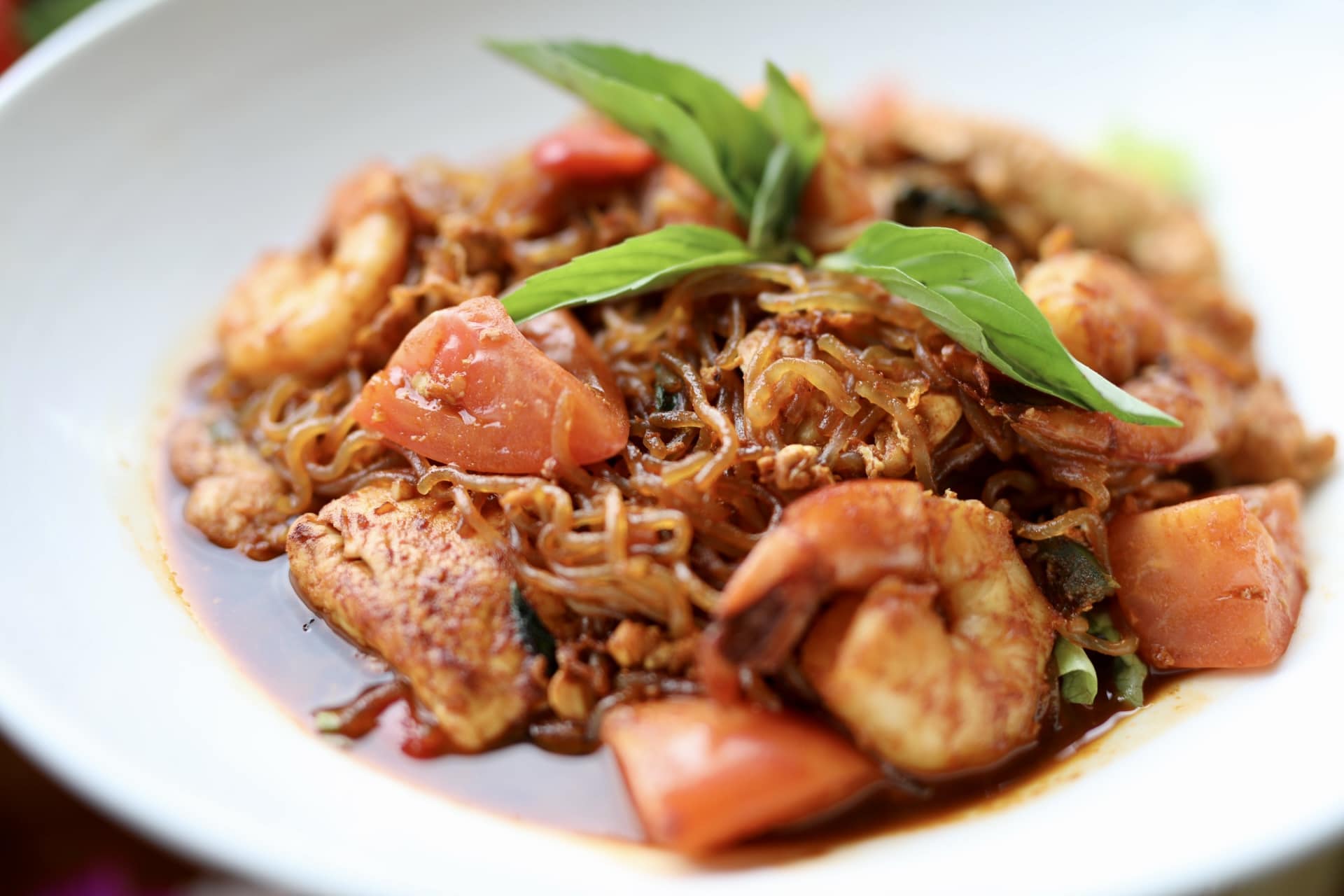 Drunken Noodles are fantastic, and Chef Nikky isn't alone in thinking so. Mint Fanatics in Asian Mint name Pad Kee Mow as their second favorite dish! Chef Nikky uses shirataki noodles so everyone can enjoy her dish without worrying about pasta calories.
Don't worry about alcohol content, too – drunken noodle doesn't contain alcohol. Pad Kee Mow is perfect after a night of drinking with friends. You can also try it if you're feeling adventurous and up for some spicy goodness.
Chef Nikky serves drunken noodles during Songkran because it's just so good. It's a classic Thai noodle dish that reminds her of home. It represents a spicy, festive start to the new year for her, too, with its array of flavors and harmonized ingredients.
Nam Prik Ong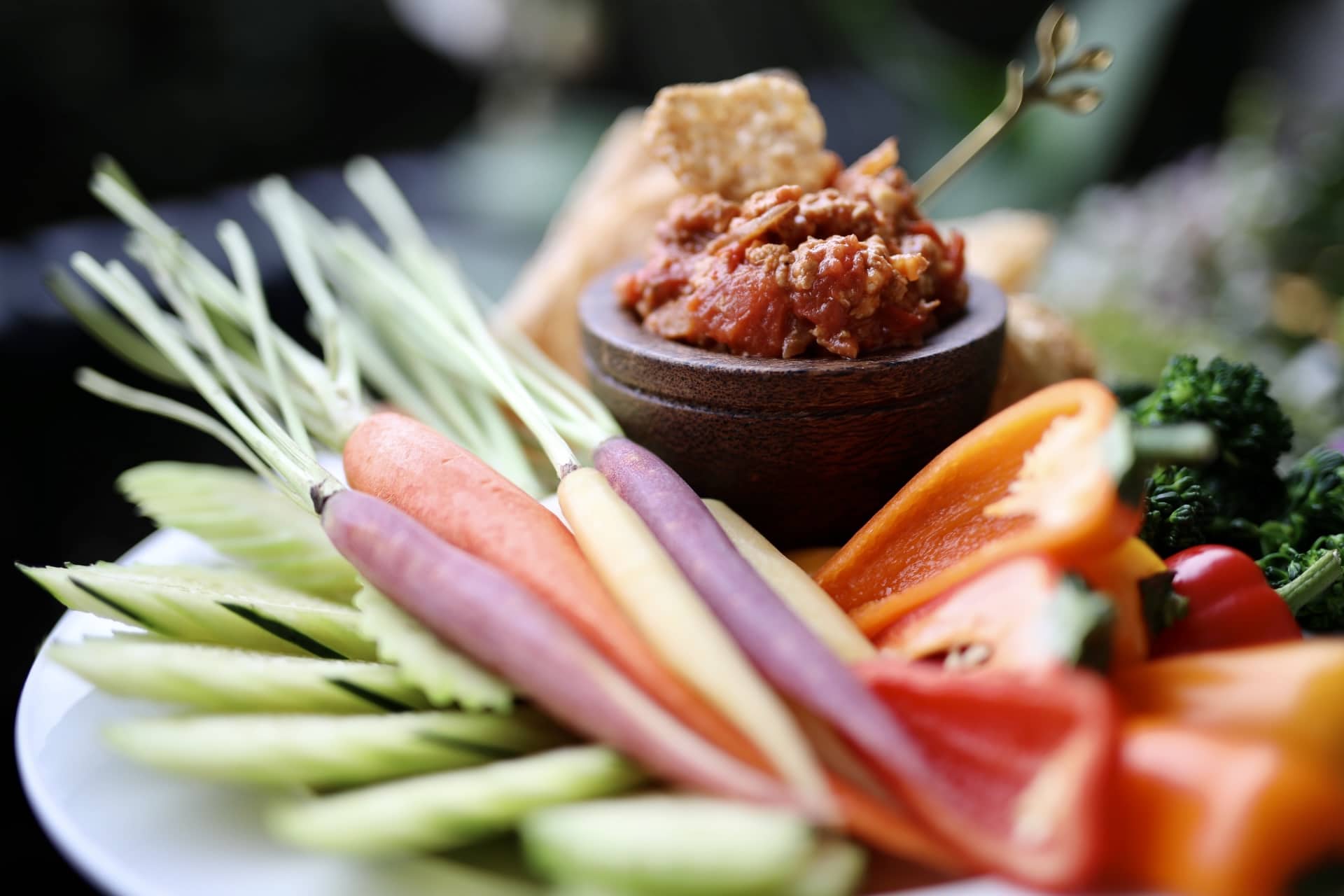 Like Pad Kee Mow, Chef Nikky's Songkran isn't an authentic celebration unless she eats Nam Prik Ong. It's more of a dipping sauce than an actual meal, but it's a great snack you can pair with anything crunchy.
Nam Prik Ong's meaty sauce littered with tomatoes mixed with red curry paste magically enhances any plain snack. You can dip pork rinds, bell peppers, purple and orange carrots, and even cucumbers in Nam Prik Ong.
Chicken Lettuce Wrap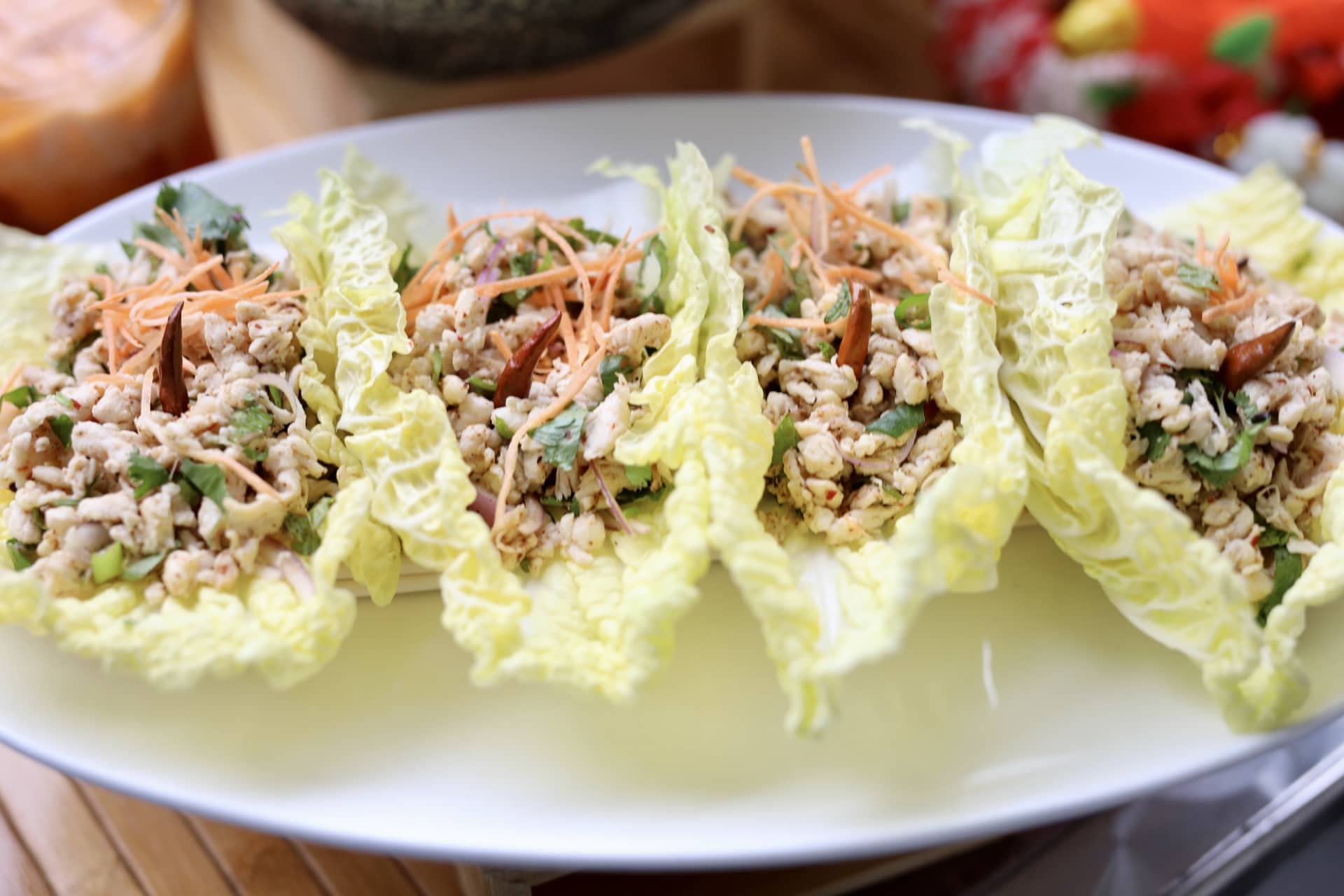 Fun fact: you can place Nam Prik Ong on chicken lettuce wrap as a topping! Chicken lettuce wrap stands out on its own, but it tastes better when you get creative and add some sauce to it. Besides Nam Prik Ong, you can also use Chef Nikky's hot sauce, sweet and sour sauce, and even black soy sauce. Check them out here.
If you ever go to Thailand or already did, you'll notice plenty of stalls serving chicken lettuce wraps. They're healthy, tasty, and soul-feeding. It's also perfect for boosting an eventfully tiring and fun Songkran celebration!
Papaya Salad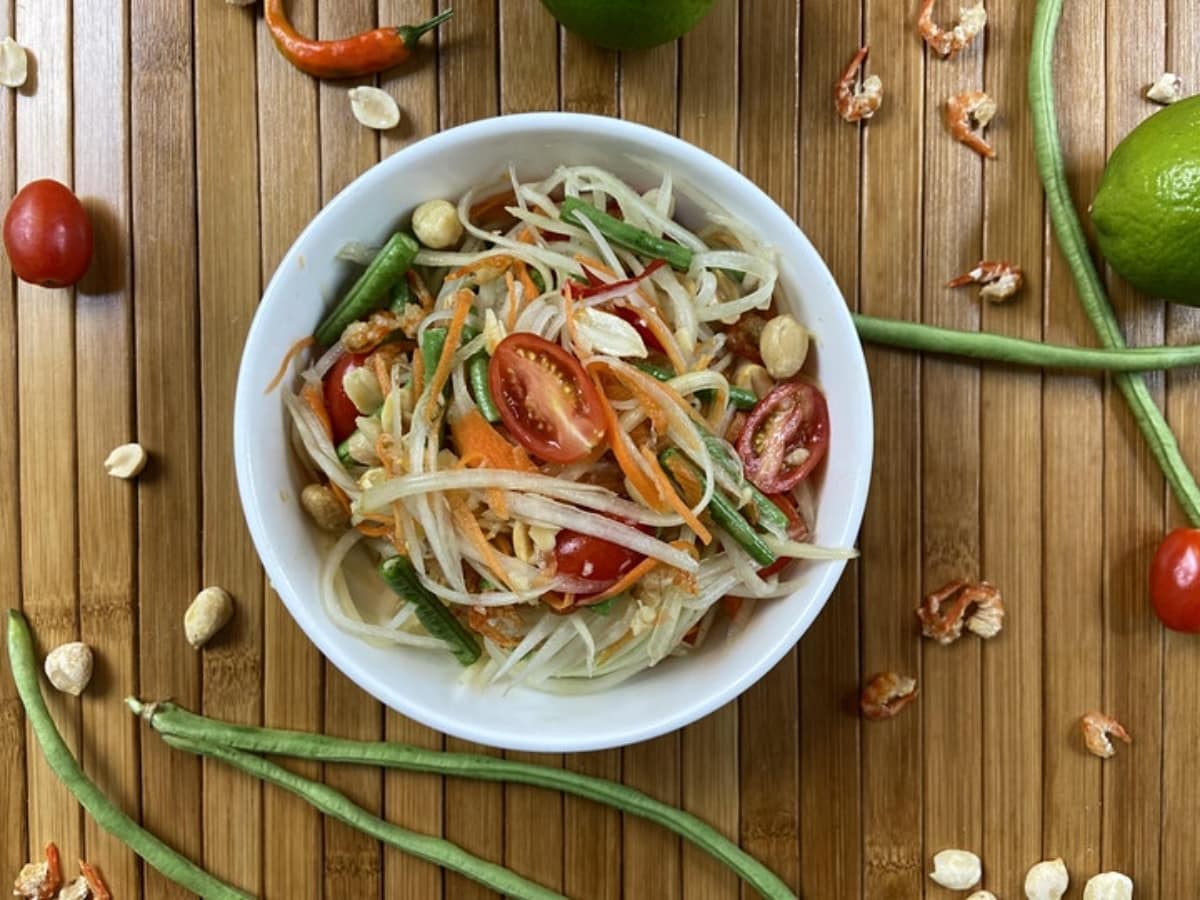 Papaya is abundant in Thailand, so you'll see Thai people eating papaya on plenty of occasions. Chef Nikky loves how she feels like she's home whenever she whips up a simple papaya salad. Of course, there are so many variations to this dish, and that's what makes it even more special!
In Chef Nikky's case, she often creates papaya salad's classic version. She mixes green papaya, green bean, tomato, dried shrimp, and peanut. You'll often find her serving papaya salad with grilled chicken, sticky rice, or the traditional Thai salad.
During Songkran, Chef Nikky prefers to combine papaya salad with drunken noodles, chicken lettuce wrap, Thai tea, and Nam Prik Ong. She says she's always appreciative of the result, of how each dish complements each other and makes the whole meal special.
Thai Tea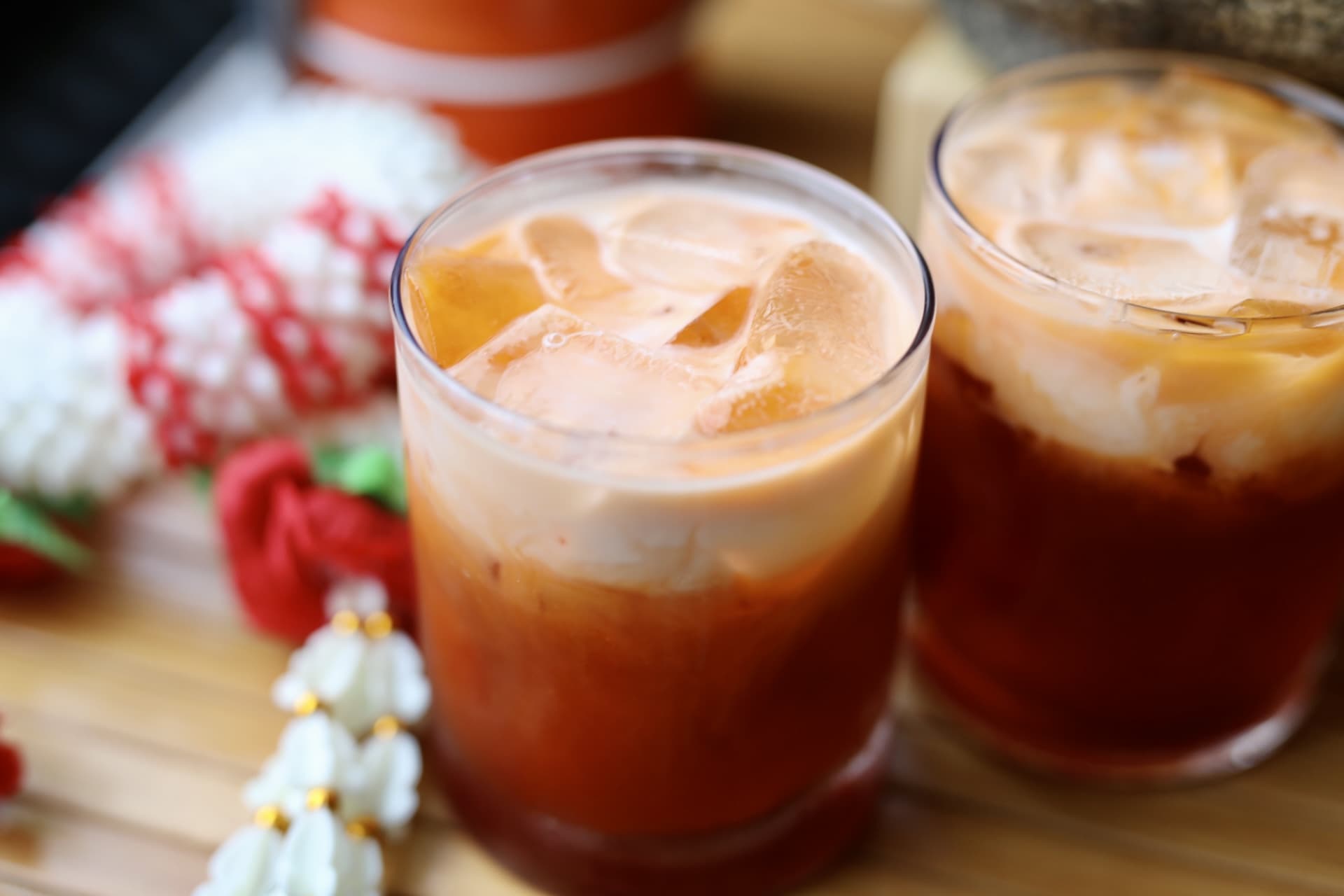 You'll see Thai tea or Cha Yen served everywhere in Thailand's streets. Thai tea comes from strongly brewed black tea mixed with condensed milk and sugar. Some people add evaporated milk on top of the tea for a creamier and tastier drink.
If you're worried about sugar, though, you can order Thai tea with less sugar or no condensed milk. In that case, your tea's called Cha Dum Yen or Thai tea without milk. Chef Nikky prefers Thai tea's original sweet version, so she always creates sweet, creamy, and smooth Thai tea.
If you taste Asian Mint's Thai tea, you'll understand why it holds a spot in Chef Nikky's Songkran dish collection. It's refreshing and energizing – perfect after spending a Songkran celebration.
Celebrate Songkran with Asian Mint
The pandemic limits our movements right now, but Asian Mint would like to invite you to celebrate Songkran with them if you can. Visit one of Asian Mint's branches on April 13 to participate in some traditional Songkran activities!
Feed your souls physically and emotionally on Thai New Year by munching on Chef Nikky's favorite Songkran dishes. You can also bathe the Buddha and receive special envelopes with surprises in them.
If you can't attend any Asian Mint branch, you can still celebrate Thai New Year. Join Chef Nikky in her Easy Keto Songkran Cook-Along instead. You can cook along with her or watch her create Pad Kee Mow, Nam Prik Ong, and Thai Tea.